What is a Labyrinth?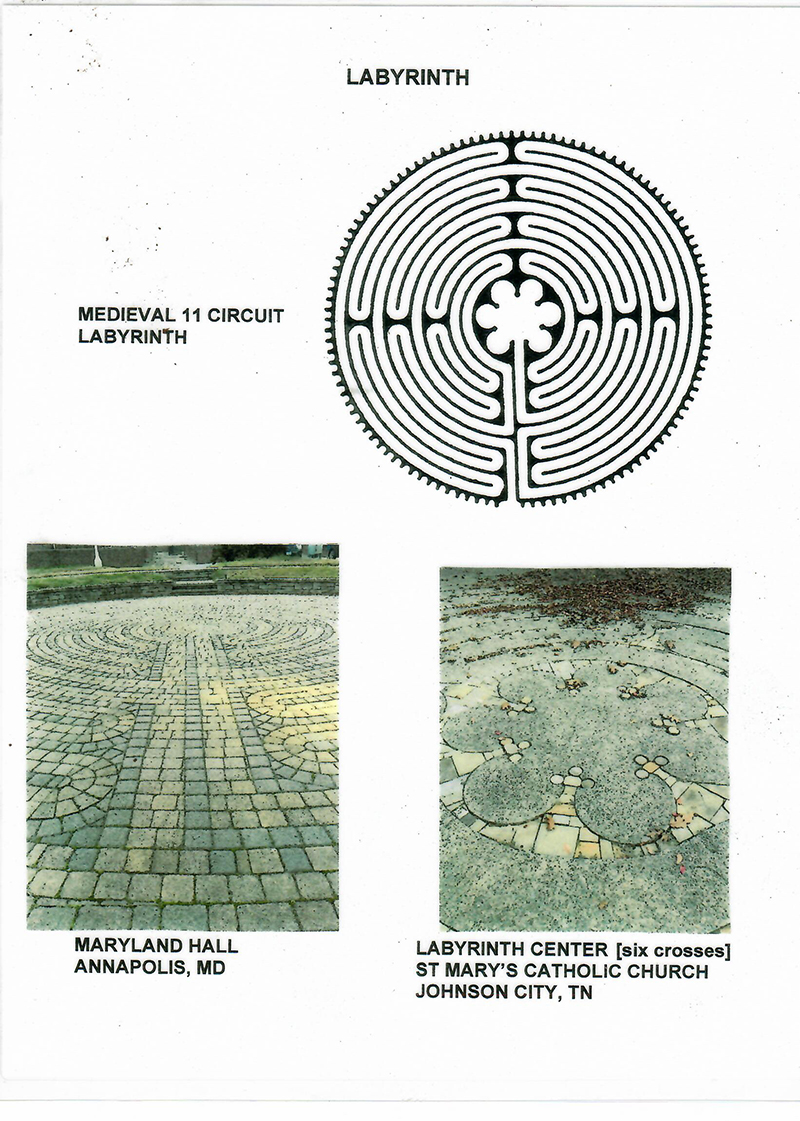 A Labyrinth is a walking path. It has only a single path. A labyrinth is not a maze, and unlike a maze a labyrinth has no blind alleys or dead ends.
Labyrinths have been used by a wide variety of cultures for at least 3,500 years.
The Labyrinth Society database has over 5.400 labyrinths in more than 80 countries around the world. These labyrinths occur in many forms, shapes, and sizes.
Church Labyrinth
Christians of the Roman Church in the Middle Ages usually made a vow to make a pilgrimage to Jerusalem once during their life. However, Crusades and other struggles made travel too dangerous and unwise to travel to Palestine. In response, around the 12th Century the Church developed an alternative way for pilgrims to keep their vows. The Roman Church appointed 'pilgrimage' cathedrals throughout Europe to become "Jerusalem" for pilgrims. The walk into the labyrinth of these cathedrals marked the ritual ending of their journey.
This 'medieval' design consist of 11 circuits in 4 quadrants. The 4 quadrants represent the 4 Gospels of the Bible. The center, end of your journey, there are 6 petal crosses symbolizing the six days of creation.
A prayer labyrinth is a labyrinth used to facilitate prayer, spiritual transformation, healing, grieving, or reflection. There is no right or wrong way to walk this path.
Santa Rosa Labyrinth
The Santa Rosa labyrinth is a new design following the medieval design. This 7 circuit labyrinth is divided into four quadrants and includes a unique space on the fourth circuit inline with the entrance. This space is not walked on but serves as an area to symbolize your celebration. Our labyrinth is a Santa Rosa labyrinth.
Stewart Labyrinth
The labyrinth is 41' Diameter. The path consist of brick pavers, 20" wide. The border consist of 6" cobblestone. Our unique space is a quote from Martin Luther.
CENTER: instead of the six crosses, we have icons representing the six days of creation and one large cross in the middle representing Christ the King.
The mason is John Coapman.
Including the labyrinth, sitting areas, and walkways there are 115 tons of gravel, concrete, brick pavers, cobblestones, stone, sand, and mortar. All of which was wheel barrowed down from the cul-de-sac 100 yards up the hill. From clearing the area to final completion took 18 months.